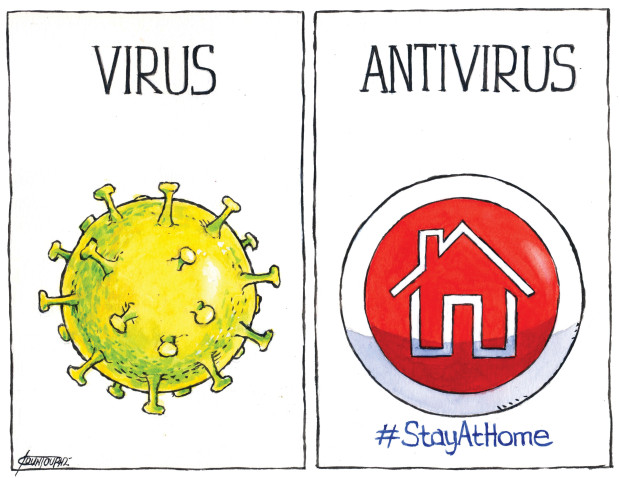 It's been just a little less than 100 days since a major part of the world has been discussing about one thing – Covid 19, i.e. Corona Virus Disease. As we all know, it broke out in Wuhan, China. Irrespective of this fact, it started affecting the whole world. Name a country and yes, it was there.
Till about 15-20 days ago, most of us in India were busy with our routine… Get up, get ready, check traffic, busy roads, office, nagging supervisors, return back home, share of some personal issues and happy moments, sleep… Yes, our routine! The number of infected gradually caught up and we saw few cases of travellers testing positive for Covid 19. "Oh, why can't people be more careful?", "What was the need to come here?", "Oh, it's here too!" were some of the common internal reactions and/or external conversations we started having. Meanwhile, some production houses registered for titles related to Corona, one of them being, 'Corona Pyaar Hai'. News channels brought medical experts or people with white aprons to influence the viewers; and animation experts to graphically convince them further. Theories started floating:
1. Covid 19 will not be able to survive indian weather conditions.
2. Indians are naturally more immune and hence, lesser prone to get infected.
3. It's affecting only certain age groups.
4. Most interesting one was that Modiji's Government is ready to face and fight situations of any magnitude, hence, no need to fear anything.
And many more…
By science or by logic, one by one, each of the above theories vanished.
Cases have been exponentially increasing in India and worldwide! The affected numbers in China, Italy, Iran are alarming and we collectively need to wake up to this!
Central as well as State Governments started putting out advisories, rules and appeals, as found appropriate on case to case basis. Our Prime Minister had addressed the nation a couple of days ago where he had appealed to his people to observe and follow certain things, one of which was a Janta (Public) Curfew. As I am struggling to summarise and let out the sea of my thoughts through a small tap, we are close to 150 minutes away from the suggested start time of this curfew. Many of us are experiencing these situations for the first and (I pray to god) the only time in our lives. The feeling is a cocktail of few emotions;
1. Little nervous, as this is the first time ever that I am going to be a part of any curfew.
2. Little scared, if the situation we are in is really this crucial and serious?
3. Worried, about some anti-social elements. To elaborate, yesterday evening, a roadside sabziwala shared that a passerby told him to shut down and go home or else he'll complain to the Municipal authorities. He, ofcourse, gave in. However, what he didn't know was that the Govt has promised to keep all the essentials available and open. I am worried that if these shops are open or people go out to buy some essentials, will these over enthusiastic followers and fanatics create violent nuisance?
While we are in such grave situation, some religious or desperate extremists aren't ready to budge.
1. Heard of some ardent followers of Lord Ram denying to follow any of these advisories and continue preparations for celebrating Ram Navami with full fervour.
2. Also, some Muslim organisations were quoted saying that their community should not follow the Janta Curfew and instead, gather in their mosque, bow in front of their Creator and ask for forgiveness!
3. Mumbai and Pune railway stations were in the news for being the most crowded railway stations yesterday, since many outsiders who were here to earn their daily living were now desperate to return to their hometowns!
4. Shaheenbagh (Anti CAA) protestors are not willing to move and posing a larger threat. Whether the protests are valid or not is a separate issue, I am refraining from letting out my political opinions contaminate this post.
5. From cases of patients under treatment running away from the hospital to celebrities hiding their travel history and then the ones ignoring advisory to be home quarantined, we have seen enough irresponsible behaviour.
As much as the demand for de-crowding and social distancing is increasing, situations like these are making us, as a country, weaker and more vulnerable with each passing day. What we are not understanding is that we, as citizens, have the largest and the most responsible part to play here; of avoiding to contract the disease. The numbers are increasing, by the day, by the hour, exponentially! We need to contribute to flatten the curve. Few of us are questioning what the government is doing here to be extra prepared. May be they are doing better than we think, may be not. But this is not the time and moment to question that. Let's take a smaller step, just for the safety of ourselves and our direct family and dear ones, and serve a larger purpose in turn!
As far as professional work is concerned, let's sit down for a while. I am too inexperienced to comment or advise about the impact on the overall economy and the job sector across industries. What I can still see is that if we as a country and as human race get past this phase successfully and in good health, we can rebuild. Otherwise, what are the chances anyway? All we are expected to do is:
1. Work as much as possible from home.
2. Catch up on some movies.
3. Make tea for your parents and have some casual conversations with them.
4. Sit with your partner and rejuvenate the relationship.
5. Video call your best buds and talk non sense over a couple of drinks.
6. Call your sibling who may be in a different city or country and tell them how you wish you guys were together to spend this time together!
7. Catch up over some cooking or any individual hobby you may have left years ago!
Ram bhi chaahate hai ki aap Aa-Ram karo aur Khuda chaahate hain ki pehle Khud ka khayal rakho! It's an opportunity, just stay safe, keep humanity first and press the reset button! Let's do our best… See you on the other side!