Wedding season was round the corner. Some friends and I were preparing for our dear friend Raghav's wedding. We wanted to do a fun photo shoot during his wedding for which we wanted to get some funky stuff printed on different T-Shirts. It was a Saturday afternoon and we all were supposed to go to a wholesaler to choose T-shirts, which we would then get printed with some funky and cheesy one liners. On friday night, I'd got an email from a client stating that they had an urgent service issue and needed immediate attention. Assuming that their organisation would get closed down if the issue wasn't addressed before Monday, I agreed to go for the meeting and get the issue resolved. I'd informed my friends about this in the morning and promised them that I'll be there by 3 PM. They suggested that till then they'll go the shop and keep some options aside and once I reach, we'll quickly decide and move to the printer to get those Tees printed.
I reached there at 3.15 PM and as decided, my friends, after examining the colors, fabric quality and patterns of numerous options, had chosen and kept aside two colors to be finalised from. I had a soft corner for the black one but wasn't really convinced that our prints would look great on black. I asked the shopkeeper, "Kareem Bhai, inke beech ka koi color hai kya? humko ek line print karna hai jisme kaale color mein 'BLACK' likha jayega aur safed color mein 'WHITE' likha jayega.. Grey jaisa kuch hai?". Irritated that he had been showing colors, textures and patterns since the last 1 hour and none of my friends kept this into consideration earlier, he said, "bas itna hi hai bhaiya.. baaki sab dikha diya aapke dosto ko pehle hi..". On insisting, he whispered something to his assistant 'Prakaas'(actually Prakash) and told us, "rukiye 2-5 minute, ladka dekhne gaya hai..". As we waited for few more T shirt color options, my attention suddenly went on the next loud voice in the room, a news channel showing "Report Card" of our current Prime Minister's work, against what all had he promised when their alliance had come to power! The screen size of report card became half and the other half showed some representative of the opposition party animatedly questioning Modiji's capabilities towards running the country!
"Sahi baat hai," Kareem Bhai murmured. I looked at him, smiled and looked away. "Arey kya matlab sahi baat hai??," Gopal suddenly spoke in an agitated voice, "60 saal mei kiya hua gobar aisei 4 saal mei saaf ho jaata hai kya?". To calm him down and break his tempo, I asked, "60 saal ka gobar? tu kitne saal ka hai?". Realizing what I wanted to convey by that question, he said, still sounding a bit agitated,"maine khud dekha nahi hai toh kya hua? Padha hai.. and I suggest mujhse argue karne se pehle tu bhi facts padhke aa, Congressi kahin ka!!"
"Excuse me?!" Puzzled, I looked at him in surprise, rewound what I had said and realised that I had not said a single word in support of the Congress party, yet Gopal assumed so and counter-attacked me, just because I didn't support his choice. That's what is happening all over, in family discussions, on social media, at social gatherings, etc.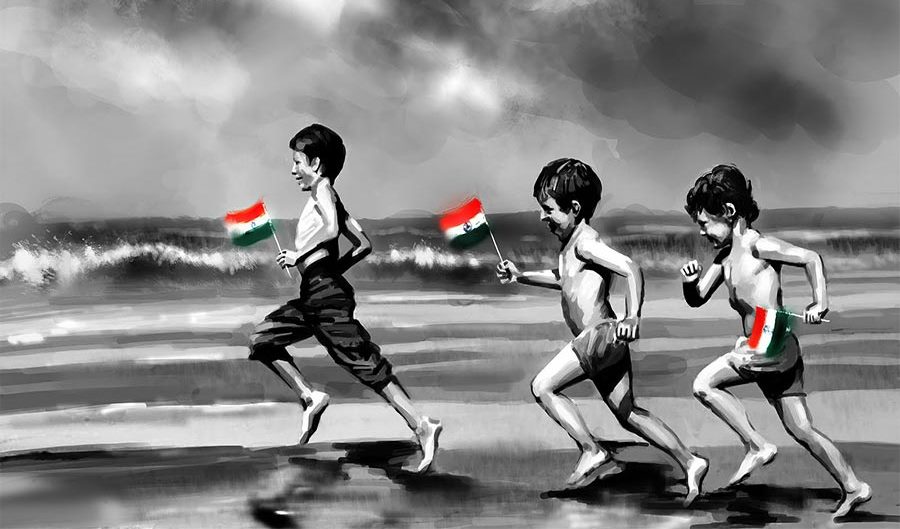 I am a common man with no emotional or political inclination or support towards any of the top two parties of the country, but I understand that the crux of the matter is that every Indian is seeking a better life in this country! For coming to power, political parties give hopes to their citizens and if the citizens ask questions, it is considered as an personal attack. Well its is not! They are just seeking answers to the hopes that were given to them few years ago!
There's a type of people in the country who give questioning their own perspective and pass their own judgments. A representation of their judgmental ways is as below:
If you would've questioned the government in
a. 2012-13: The youth has learnt to question the government; the youth of the country has awakened.
b. 2017-18: The youth are questioning Modiji; the youth of the country is not going in the right direction.
We are emotional people and political parties, Congress or BJP, use our emotions to gain our confidence and support. Honestly, its not that ministers or assemblies of foreign countries haven't given a standing ovation to any of our previous Prime Ministers. But the previous leadership failed to promote and create their brand. Undeniably, the current ruling party is making great use of Social Media!
"Prakaas dekhke aaya bhaiya, Grey mei nahi hai filhal kuch", Kareem bhai's words interrupted my thoughts. I smiled, kept my hand on his shoulder and said, "koi baat nahi Kareem bhai, apne desh ka bhi yahi haal hai". "Kya??", he exclaimed. I laughed and said, "kuch nahi, filhal kaam toh nikalvaana hai.. Black and White wali line wala plan cancel kar dete hain! agli kisi shaadi tak agar grey aane lage, toh le jayenge!"
Anyway, I neither support, nor disrespect any political party or to put it in right words, all that really doesn't concern me. And its really not that I don't want to support any, but none of them appeal to my senses as of now. And in our country, why is it difficult to understand that there are people who are silently ethical, mind their own business, like to take care of their family and have a quality relaxed time with their friends and work each day to make their tomorrow better and happier! Why am I supposed to choose one of the two? Why is that If I don't like a party, I am told that I like the other one?! To live in my own country, why am I forced to have an opinion about either of the two main political parties? Why am I made to voice my opinion and if I don't sing what the herd is singing, why am I considered a misfit?! Why can't I be neutral? Why can't I be 'Grey'??
I don't know how has the above write up connected with you. But since you're here, I really want to urge you to use your own reasoning. If you wish, watch all the debates and news you want, scan the entire YouTube if you want, gather as much information as you want, but please use your wise judgment. Years ago, a friend working with television and media had told me that the Media only shows what they are supposed to or allowed to, its all manipulated. My sincere suggestion to you is to keep the political arguments at bay, there's enough going around already. Politicians will speak on the mic and go. If you've had a bad day at work, its your friend who'll not think twice before agreeing to join you for a chai/coffee/beer. When you were a child and needed love and good upbringing, your parents, uncles and aunts gave you that, not some fancy politician. Without these Acche Rishte, there would be no Acche Din, even if the ruling party fulfills all the promises it made!