"Yes, my cousin was caught running with her boyfriend-turned-husband after they secretly got married and were shot by her own family and close relatives!" These or some similar words had echoed in my ears and the scene had played and re-played in my mind several times since I had reached back to Mumbai at 4 AM on 7th September.
The scheduled arrival time was 14:55. The digital clock on the platform said 14:57. I cursed South Central Railways for the two minute delay, and self apologised immediately, realising the "So What??" expression I give to my boss every morning even after being 30 minutes late to office. I boarded Hussainsagar Express at Begumpet Railway Station, a small stoppage within the geography of Hyderabad. I had been to Hyderabad to be a part of Ganesh Festival Celebrations at my relatives' place. My parents are on a brief tour to the US and are relishing every moment of their time with my sister, brother in law, nephew and my 45 days old niece. Varsha Mami and my maasi's son Bobby Bhaiya who were the only relatives concerned about the fact that there would be no Ganesh Festival at my Nagpur residence this year were really keen to have me there.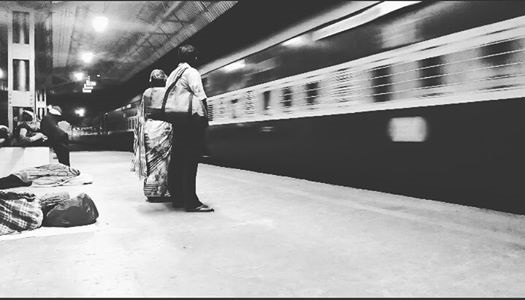 In 90 seconds, the train moved and the journey began. This was one of those rare instances when I couldn't check if there was any 20s aged female in my compartment, thanks to the brief stoppage of the train at Begumpet Station. All of us exchanged penetrating expressions to book slots for parking our respective luggage bags. Human beings are blessed to have this privilege of sending out vibes to people around them. However, this phenomenon works against us sometimes. All of us realised this, sooner or later, and reached out to their bags and purses to pull out earphones and books. We were seven passengers in the compartment, including a 60+ aged couple, a girl (possibly in her mid twenties) and three other men excluding me. The girl was good looking and looked simple. She wore a dark blue round neck tee with some design over it and a pair of black jeans. Accept my sincere apologies for not being able to recall attires of other passengers. The guy sitting in front of her was constantly staring at her. If I am not wrong, he must have blinked his eyes once in every 2 minutes as he was trying to mug up each and every feature on her face. Soon, at around 18:10, the girl requested the gentleman beside her to allow her to occupy the berth to get some rest, since she wasn't feeling well. Rest of the men, whose only amusement factor had called it a day, quickly arranged their berths, jumped onto them and got busy entertaining themselves. I wouldn't say I was unaffected by the girl's move to go to sleep. All the energy I had consumed in doing and undoing statements in my head that I could say to strike a conversation with her had gone in vain. However, to be honest, I was relatively more irritated with the sight of people lying on their berths at 18:15 with an uncle's snoring machine already started. Shifting focus on entertaining myself, I opened Wynk on my phone and clicked "Play All". I don't remember the first song since I was more engrossed in doing my berth to follow what my fellow passengers had already done. The second song that played was "Gazab ka hai yeh din" from Sanam Re, sung by Arijit Singh. Yeah right Mr. Singh! What an irony!
I had read 56 pages of the book I was reading and as I checked time on my mobile phone, it said 21:14. It's funny how we sometimes put ourselves through this struggle of pulling out our mobile phone from our pockets to check the time even while we are wearing our favourite wrist watch. It was well over three hours since I had taken last update of my fellow passengers, not that they were also bothered about my existence in the train. However, Arijit's voice and Chetan Bhagat's story telling was way more interesting than the 'Happy' Journey I was having in Hussainsagar Express. Finally I turned to scan what my fellow passengers were upto. The girl was having her dinner and the "Scanner" guy was drinking water, possibly after having his dinner. The senior couple continued to chat, sitting in the same position as they were over three hours ago. There are some lessons we need to take without anybody telling us to do so. Meanwhile, I also ate three out of the six methi parathas that Varsha Mami had packed for me. Close relatives make sure you are hung over with ghar ka khana for as long as possible, even after you have left their place. To carry this hangover to the next day, I had saved the 10 Masala Pooris that Bhaiya had packed for me! Too much love! I got down for honouring the nature's call and while I returned to my seat, the lights were off. By 21:45, my fellow passengers had bid Good Night to each other. I wondered if they were waiting for me to leave my place to quickly make that move.
I climbed on my Side Upper Berth and sat there, trying to re-establish connect with Arijit Singh through my earphones. Saawali Si Raat from Barfi played to set the perfect mood. Next to play was Chhamak chhoriya se nayanva ladawat wat wat wat…….. My subconscious mind thought it was time to the nayanwa ladawat act! I slowly bent to have a glimpse of her and Oh Crap! She was looking at me! The dim light inside the bogie served enough for me to be sure this had happened. Our eyes met for 5 seconds. She rested her head on her pillow and was semi seated on her berth. She had wrapped around a mehendi coloured scarf around her neck also covering her ears to prevent herself from catching cold. One, she really looked cute. Two, her facial features were more prominently visible with the contrast between her fair skin colour and dark coloured scarf. Embarrassed, she looked around to seek distraction. Her mobile phone was the best option she could find. Yes, in a way, mobile phones were invented for such situations itself. We often lock and unlock our phone, open and close already read and replied messages on the phone to avoid eye contact with unknown people in public places. While she fidgeted with her phone, I collected my thoughts and returned back to my phone. For the first time, I found the "Shuffle Songs" feature on the Wynk App absolutely awesome, since I was excited to know which song will play next. Next song to play was Saibo from Shor in the City and the lines "Surkhiyaan hain hawaon mein do dilo k milne ki……" felt like Tochi Raina and Shreya Ghoshal were trying to set things up! I again bent to take another glimpse of the face I had started to find beautiful in this saawali si raat! She was looking at me again. In my mind, I considered giving the title "Scanner" to her, and dismissed this thought within microseconds. This time, I am not sure how long did the nayanva ladawat drill last, but it was surely more than the 5 seconds trailer we had the previous time. There are 200 imaginations and stories of what communication we had during the drill, but "Micchami Dukkadam", a voice startled us; 'us' could be an overstatement, but it did startle me for sure. An uncle in my compartment, I think, was desperately waiting to get some network for calling people and shouting this term. Shouting is a way, from the ancient days of trunk calls, when landline telephones, scantily available then, used to have weak network and we innocent humans thought shouting would ensure that our voice reaches the other side of the line. Uncle, if it's not too offensive to guess his age, was around 45, travelling to Mumbai for some ceremony to be celebrated in honour of his nephew. "Micchami Dukkadam", he repeated. 'Second call in a row?', I thought to myself and tried peeping out of the window, it was Kurduvadi Railway Station. I jumped off my berth to grab a packaged water bottle from one of the vendors shouting "thanda paani bottle bolo… bisleri bolo… Cold drink bolo…. Thandaaaa". The train started, and the vendor ran a few steps to return change. I smiled and thanked him! As I opened the door of the coach and approached my seat, Uncle repeated over the phone, "Micchami Dukkadam". This time he sounded more in haste than the previous two times I had heard him say that, probably because the train had started and he was going to lose the network soon. Thanks to the Jain friends I've had, I was aware what Micchami Dukkadam meant. Else, I would've thought that's his name and that he's been calling and telling people that it's Micchami Dukkadam speaking. I gulped close to 300 ml of water and placed the bottle in the bottle pocket facilitated by the Railways. I glanced at Miss-Growing-Pretty-With-Each-Glimpse, she had now got up and was seated on her berth with her head camel-like popped out since the middle berth above her was on duty. I thought if she had got up to check which station was that or did she get up to tell the uncle to soften his voice at that hour of the night. Meanwhile, Uncle and the Miss had got talking. While all this happened, a song played on my Wynk App, "Aaj raat ka scene bana de…" But honestly, there was no scene. I knew it was just her pretty face that I was checking out all this while and had liked the fact that she was also noticing something about me. Half blame on my filmy-self and half blame on Arijit, Shreya and Tochi, I freed myself from the guilt of trying to build it up with an unknown girl on a train journey.
I sat down beside Uncle, who was facing the leading lady of my Mumbai bound journey. In a train where people were ensuring full returns of the ticket amount they had paid for, three of us seemed to have some problem with sleeping. I anticipated that since the lady had slept for some three hours in the evening and Uncle had to make some critical Micchami Dukkadam calls, both of them were awake. I am anyways, a late to bed and late to rise kind of a person. After basic introduction questions, I learnt that she was pursuing MBA in HR from a college in Hyderabad and was into her first semester. She asked about me and I told her about my highest education and employment details. When we turned to uncle to know about him, he, resting on his briefcase turned into pillow, made a futile attempt to sound funny and said, "I do nothing." On reconfirming, he said he has his own business and then we received a free lecture on how could we believe he did nothing at his age, when he must be surely having family responsibilities, unlike us? After his awkward and offensive remarks, we automatically tried keeping him out of our conversation. But uncle wanted to be part of it and so he enquired, "Aapke papa kya karte hain?" "Railways mein hai", she said. Nosy uncle that he was, her answer didn't satisfy him and he probed further. "Engine Driver hain!" she said and Uncle quickly responded with a judgement, "Ohhh… Driver hain?!" She nodded and looked out of the window, of course because of the unnecessary probing and judgements of Uncle. I felt the urge to pinch him for behaving the way he did. I finally broke the 90 seconds awkward pause and asked her name, to which the bond girl replied, "Mishra…Pranita Mishra… Aapka?" I gave her relevant details as her obsession with last names continued in my case too. She probed further to understand how my Hindi didn't have any influence like that of a Maharashtrian's in many cases. I told her that my father is Maharashtrian and Mother is a South Indian and I have focused on learning languages from the syllabus textbooks. While giving these little details, as I simultaneously observed Pranita, I sensed something unusual about her. For example, her eyes were getting wider and she over nodded while listening as if more for pretending to understand than actually understanding whatever I was telling her. In moments, she asked me if I had a girlfriend. I smiled and answered. She over-nodded as she listened again and continued, "Ye humare yahan nahi chalta!" Puzzled, I turned my head towards her at 60 miles/hour. Sensing that she had taken a long pause at the wrong moment, she continued, "Humare yahan toh kisine bana liya na girlfriend-boyfriend, toh………" She made guns with fingers of both her hands and signalled, "Thish! Thish! Thish!" (That was cute, indeed!) I carefully looked at her again and hoped she wasn't a 55 year old lady telling me stories of what she had seen when she was young. I expressed keenness to know more. She explained, "Kisi se pyaar-shaadi karna hi hai toh apne samaj mei karo, kisne roka hai? Maa-Papa ke pasand ke ladke se karo!" I tried keeping my expressions as straight faced as possible, just so that she doesn't stop telling me stories from the 70s era. I instigated her, "Lekin ye sab toh tumhari pichli peedhi mei hua hoga na? Abhi kya?" She animatedly threw one of her hands in over excitement, so much that I felt the wind generated from it near my nose tip, "Nahi, meri ek cousin ke saath hua hai… Use aur uske boyfriend ko shaadi ke jode mei uda diya gaya!" Unable to figure out what my next reaction should be, I reached out to my water bottle and came back within seconds as she continued, "usne affair kiya aur woh us ladke se shaadi karke bhaag rahi thi, nahi bhaagti toh shayad itni buri tarah nahi maarte." I wondered if she meant that her cousin's family would've offered the couple some shahi paneer and butter naan before aiming the headshots. It had made zero sense. She continued to explain, "humaare yahan agar beti ko bahar kisi se pyaar ho jaaye toh aisa maana jaata hai ki beti ki vajah se pita ki pagdi utar gayi hai." I had only seen this drama of "pagdi utarna" in bollywood movies. I imagined Alok Nath removing his pagdi with his typical helpless expressions and the 30 odd members' community looking down upon him. Pranita's voice startled me, "Aur kyun karna aisa kuch jisse apne papa ki pagdi utre? Jinhone tumhe 22-24 saal paala, posa, padhaaya-likhaya, yeh-woh!" With optimum emphasis being on 'yeh-woh', I understood she was running out of words but wanted to express that parents do a lot for their kids. Undisputed Universal Truth! I agreed to the fact that we shouldn't hurt their feelings for Love that we have found in the last few months or few years of our lives. But I also feel that parents need to give a rational and fair thought to their much loved child's wishes, rather than emotional drama like 'pagdi utar gayi tere baap ki teri vajah se'. But I controlled putting across this contrasting view, since she had grown up with her opinions for at least 24 years now (I had checked her age on the reservation chart at one of the stations I got down at. Yes, I know, Men will be men).
Like I do with a lot of friends of mine, I tried putting her in focus and asked.
"MBA college, naya sheher, naye log, naye dost, naye rishte, tumhe koi pasand aa gaya toh?"
"Nahi aayega"
"Socho toh, agar aa gaya toh?"
"Aa hi nahi sakta!"
"Bhul jao ek min ke liye ki tumhari family mei allowed nahi hai, phir?"
"Bhul hi nahi sakti, humesha yaad rahega! Kabhi aisa kuch hone hi nahi dungi"
Our eyes stuck to each other's, as I sensed an agitation in her responses. She gave out a fake smile to hide the helplessness within her. How could she betray her lifelong learning in front of a stranger suddenly? I figured out that like many humans, she was programmed to believe something since the moment God activated her grasping powers, and after a moment, when there are no legit answers, the responses go in infinite loop. Pranita and I, two different people; Born in the same generation, but our thoughts were generations apart. Both of us had an understanding of our respective upbringing or the overrated word 'sanskaars' that our countrymen need to have. However, I couldn't agree to hers and she, I am sure, didn't agree with mine. We were carrying two different images of Indian-ness in our persona. I know, involving India in this context is like underplaying the greatness of our nation. But hypothetically, just imagine that a visitor from US interviewed both of us with same set of questions. Which one does he perceive as the Indian thought process?
Anyway, coming back, so to lighten the intense cloud that had formed in our compartment, I semi laughed and asked, "School-College mei toh tumhe kaafi ladko ne approach kiya hoga?" She smiled lightly and started answering. I don't even remember what she answered. I was just relieved that I didn't cause a stranger to break down into tears inside a compartment with other strange people. She started narrating about the two elder sisters and a younger brother she had and an overview of each one's characteristics. She said she will get married immediately after MBA since girls in their family are not even allowed to pursue their career. The hyper-curious creature that I am, I immediately enquired, "Then why MBA?", as if interviewing her. I immediately looked away to indicate that I am not expecting an answer for this. Her younger brother seemed the most rebellious in her entire family and someone I could relate to. Others, from whatever she described, made me imagine bollywood movie scenes from Tiger Shroff's Heropanti and Gangs of Wasseypur. During the entire conversation that I had with her, she also asked me random questions like "Kitna kamaate ho….? Kitne saal ke experience mein….? Ladke girlfriend kyun banaate hain….? Timepass ke liye, agar Timepass ke liye nahi toh break up kyun hota hai….?" One more remark said, "Ye train Mumbai ki hai isliye aapse itna baat kar rahi hoon, agar mere gaon ke side ki hoti toh ab tak ghar pe khabar pohoch gayi rehti ki main aapse baat kar rahi hoon." These were so randomly placed that I don't even remember where each of them fell in the overall dialogue. But whenever she asked these questions, I tried to make sense out of such randomness too, however, failed to do so. Probably she was just too disturbed and random from within to make sense and have a conversation like a perfect flowchart. At one instance, she also admitted that she and her entire family were like that. I didn't find it appropriate to comment on this and just smiled it off. As I stood up to get some sleep before the train reached Mumbai within 4 hours, I offered to shake hand and said, "Chalo, Good Night". She looked at my extended palm, as if it was a tiger's paw. In response, she just briefly waved her hand, semi tilting her head, indicating that 'No hand shake needed Mr. Stranger, this wave is enough for a Good Bye and Good Night'.
To be honest, I found it a bit rude, considering that we had spent close to 100 minutes chatting, out of which she spoke for 82 minutes. But I had judged the lady enough already, so I let it be. Least, I was happy that nobody saw this embarrassment I had faced of a girl denying to shake hands with me. Within 60 Seconds, I hopped on to my Side Upper berth, and checked my mobile phone. I set an alarm for 03:30 and closed my eyes to sleep.
In some two minutes, I got up and lit my mobile torch and focused it on my right palm to see if there was something that I didn't realise which made Pranita deny the handshake. There was nothing. I smiled to myself and finally went to sleep.