I was driving from Mumbai to Nagpur (my hometown) with my parents and wife. Due to worsening Covid situation in Mumbai Metropolitan Region, we thought that for the comfort and mental peace of our parents at least, it's better to go back to our hometown for a while. Fortunately, my wife's parents also stay in Nagpur, so we get to spend some time as well as take some care of them too. Somewhere around Dhule, we took a break for lunch. After eating, I just checked my phone and there were messages flooding on almost every whatsapp group about the unfortunate suicide of Sushant Singh Rajput. I won't lie; initially I thought it's some kind of a meme or a rumor. In the WhatsApp group messages, some members asked other group members to confirm if it was true. Obvious reactions, as it was really shocking and sounded almost impossible! I couldn't believe it too. But then, some notifications from the news apps on my phone also said the same. I stood there, shocked and a little shaken. I told my parents and my wife about it and of course, they were shocked too. They took out their phones and started browsing news online. Somehow, it felt like I'd lost someone I know; may be not like a close friend, but someone I know and have shared a common space with, sometime in my life. Many of us are still feeling that way! In few minutes, I somehow managed to control the flow of my thoughts as I had to drive for another 550+ kilometres before we reach Nagpur! We resumed our journey. However, the characters that he played in different films started flashing in my head; The energetic, enthusiastic and fearless 'Ish' from Kai Po Che, the carefree 'Raghu' from Shudh Desi Romance, the simple characters of 'Sarfaraz' in PK and 'Mansoor' in Kedarnath, the very talented performance of 'Lakhna' in Sonchiriya, his much appreciated, yet not so rewarded performance in and as Dhoni (he played Dhoni like no one possibly could ever have) and finally the guy with never say die attitude 'Ani' in Chhichhore! "Never Say Die", these words rung in my head a couple of times. And I thought to myself, "How can he? No he can't!" I again tried to come out of those thoughts, as it wasn't safe that way, while I had a long way to drive ahead.
It's been more than 45 days since we heard about his mysterious demise and there's still no conclusion whether it was a suicide or a murder. On the contrary, the confusion has been increasing with passing time. Some people have already concluded that he was murdered and even commenting on who was behind it! Bollywood personalities have been coming out and talking about it, seeking justice! Politicians have involved themselves, and have been fighting over who should handle the case! Media is inviting personalities and conducting debates on this issue! Some people think that few media channels have investigated better than the police! Some of my friends shared images of Sushant's bank account statement and argued that so much is present in the media, why isn't police taking any action? A snapshot of such a chat in one of my groups is as below: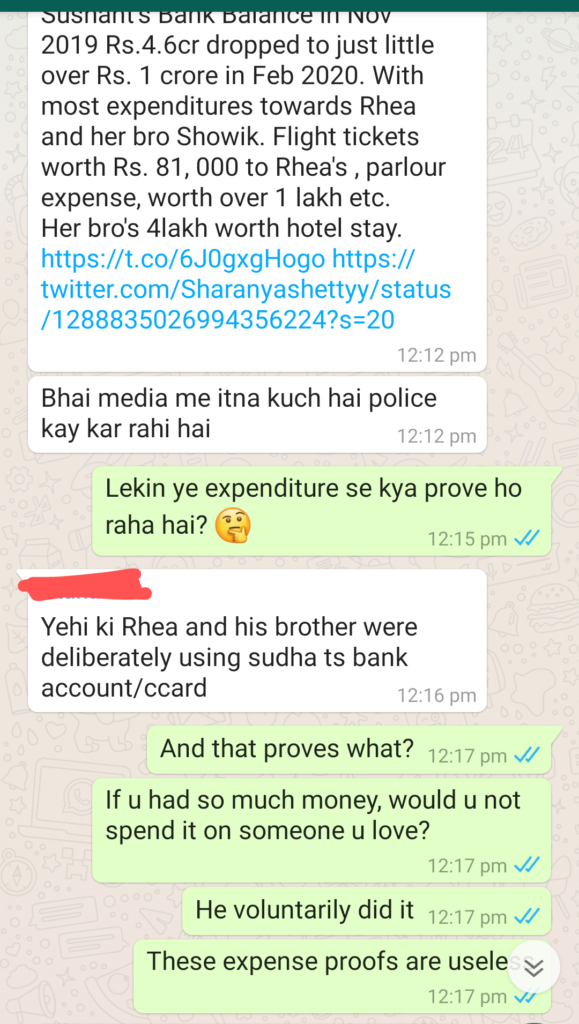 I am not saying that if Rhea has used Sushant for his money, it's justified. May be these bank account statements can be a major part of the investigation, but these are not conclusive! The point I am trying to make here is that there is an unnecessary urgency in the minds of people. I am not blaming these people, because for most of these people, it's not their own feeling and instinct; it's induced by the television and social media! Clearly, a lot of people are baking their bread in this pre-heated oven. I feel ashamed to even say so, but it's a harsh fact! Here's how:
Certain bollywood personalities have suddenly started feeling sympathetic for Sushant and his family, while they may have never appreciated Sushant's work publicly, when he was alive. I agree, that a lot of things they are saying make sense and the mafia some people may be running in bollywood, must come to an end.
The political party which is not in power in Maharashtra currently is targeting the current Maharashtra Government and the police, showing people that they are demanding what the aam janta wants and thus winning public sentiment!
Television media and press, which never ever spoke so highly about any of his performances or his films, even when he actually deserved to be talked about, have suddenly woken up to his talent, hard work and goodness.
Social media influencers and users, more than half of whom haven't cared to see even half of whatever number of movies he's done, while he was alive, are venting out abuses at the allegedly accused bollywood personalities. Not just this, they are openly abusing on Mumbai Police's official social media handles and even the CM of Maharashtra. A sample screenshot of one of the messages which 'can be shared here' is as below: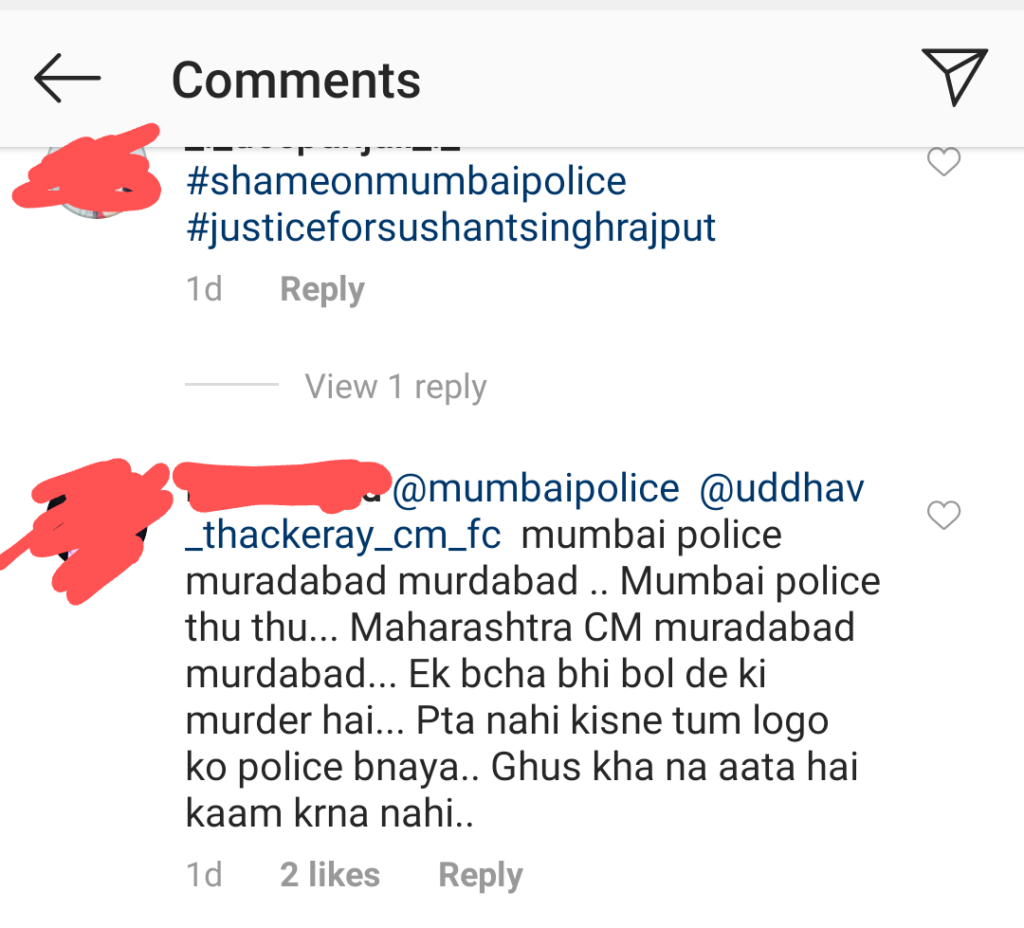 I mean, have we lost it? How much more are we going to let our sentiments be influenced by media? What kind of extremism are we bringing in our social behaviour? And man, we are proud of it!
Another thing, the media is exposing everything about the investigation. Is there no difference between news and daily soaps these days??? Someone who's voluntarily coming out and speaking in public, that's fine. But things like who said what in their statements to the police, why are such things made public? Why does the media not refrain a little??? Why do people demand to know everything??? Why don't we understand that if there are people behind Sushant being killed, media's hunger for viewership and TRP and the public curiosity is putting more lives at risk?! Remember when 26/11 terror attacks had happened in Mumbai, some media mavericks were gladly showcasing minute by minute movements of the government and police actions, and they were boasting about it, something like, "We are the first ones to bring these updates for you!" Some anchors, who are now successful Editors in Chief of news channels, turned a lot of heads by shouting at the top of their voice inside their studios, igniting patriotic fire in the minds of people. Yes, it fetched them huge TRPs and viewerships! But why didn't they realise, that the terrorists and their support groups were effortlessly monitoring all of this for their own good!
The media channels will do anything to sensationalise an item or a story. The harsh fact is that if media stops showing updates about Sushant's case for 6 days in a row, people will forget this and start arguing on what the TV and social media serves them then. By keeping up to date with all the news channels and surrendering to the waves that media creates, we all think that we are patriots, nationalists and with current trends. But dear readers, let's make some use of our education, that we have gained by spending thousands/lakhs of rupees over the years and investing our aptitude and IQ skills; and reason a bit and try to separate what's right from what's being served to us!
Coming back to the immense talent we lost around 45 days ago… Guys, let's not just type "RIP Sushant" and feel content that we have done our part. Please let him really rest in peace… In peace! He's gone… And most likely is in a happier place somewhere! Social media fights, abuses and arguments are not going to do any good to you, to the investigation and certainly nothing good to Sushant! Yes, we seek justice… We want justice… Justice must prevail and the guilty (if any and whoever) must be punished!
Will miss this personality and his talent forever! Take a bow! Love you Sushant Singh Rajput ❤️