It's been around 4 to 5 months now, since we started experiencing a 180 degree shift in our lifestyles due to the introduction of Covid-19 in our world. By now, it has affected most of us in ways, both positive as well as negative. Few of us caught up with our long lost hobbies or developed new ones! Some of us have been affected by layoffs and thus, an obvious cash crunch! One thing that most of us may have had in common is that at some point, all of us have had ample free time in hand. Social media certainly has been a driving force for the past 6 to 8 years, but our interactions on Social media have increased multifold during the Lockdown-Unlock phases! There's been so much that the news channels have been running 24×7; to list a few:
The outbreak of this pandemic
Blaming China
Toppling of Madhya Pradesh Government
Tablighi Jamat issue
Killing of Hindu saints near Palghar, Maharashtra
Attack on Arnab Goswami
Natural yet shocking demises of great actors like Irrfan and Mr. Rishi Kapoor
Locusts attack in different parts of the country
West Bengal and Orissa getting attacked by Amphan
Maharashtra and Gujarat affected by Nisarg
Sushant Singh Rajput's mysterious suicide case
Nepotism in Indian Film Industry
China issue at LAC near Ladakh
Ban on Chinese Apps
Amitabh Bachchan, Abhishek, Aishwarya and Aradhya tested positive for Covid-19
Issues and instability within the ruling party of the Rajasthan Government
Needless to mention, while all these issues gave a lot of opportunities to the media channels to spice up their content and elevate TRPs, the Covid affected population has been on a constant rise till date!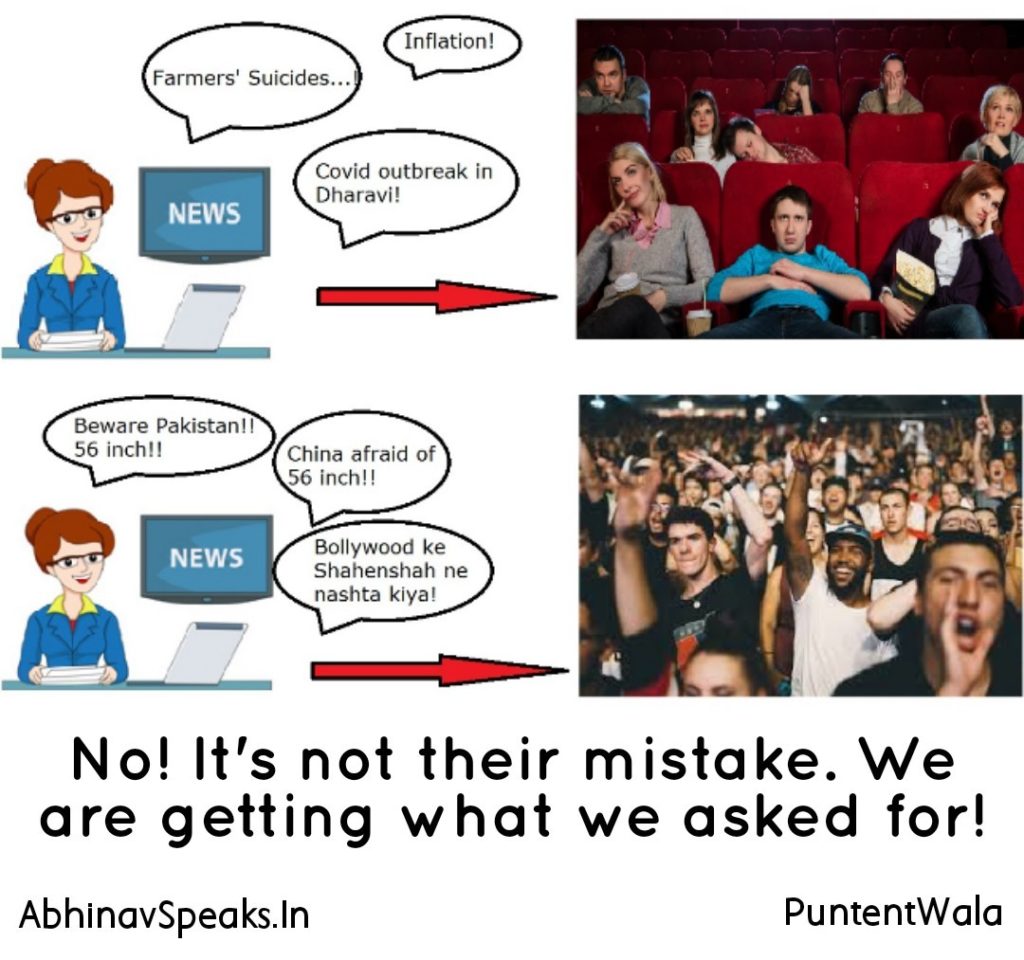 Along with television, the Twitter platform has been an active medium to spread news to the masses and gauge instant reactions. Come a tweet from some news channel's official handle, a celebrity news anchor, a political leader, some famous actor or from some social media influencers; and twitter users start engaging in scuffles eventually leading nowhere but spreading more negativity and further adding to more frustration. While some people eventually take it light, there has been a breed of people who have started engaging in Social media abuse. If there is a disagreement on a certain issue or profound love for certain political figures, most of the twitterati are not agreeing to disagree. Rather, if people do not have any further reasonable or logical arguments, they start attacking on a personal level. The troll brigade guys practically invest time in visiting their profile, checking their pictures, reading about them in the bio and then making remarks on their dressing sense, their body type and even their skin color. A lot of people from the Muslim community who may be expressing their disagreement or may be just putting across their point of view are bluntly called 'Osama ki Aulad' and 'Kasab'; some are even told that they don't understand anything as they have studied in a 'Madarsa'? I mean, these are people who don't know each other at all! Similar remarks are also made at some Hindu fanatics who follow RSS principles, like 'How can we expect Sanghis to have common sense?' Where does this generalization come from? Alright, we may not agree with principles of certain organizations, but how does that give us a right to generalize and abuse? Now imagine, these were the same people who made #BlackLivesMatter trend immensely in India too?! Doesn't that seem absurd and disconnected? On one hand, people sympathize with what happened with the immensely talented Sushant Singh Rajput; and on the other hand, they troll few not so famous actors by questioning their work so far, their acting capabilities, their looks and their personal opinions on twitter!
Well, in my personal opinion, easy and lightweight trolling is alright; keeps the energy of the platform positive and cheerful. Commenting and rectifying people for their grammar or facts, using a little pinch of general (not targeted) sarcasm, all in a joking way is fine! Even then, if someone doesn't like it, let's have the courtesy to at least apologize! But fat shaming and racial slurs is just not done, right?
Things, however, don't stop here! The worst is that actors, actresses, influencers and even general people are openly threatened on Social media! They get murder and rape (even gang rape) threats for saying something that's a part of their thought process or their personal opinion. And guys sitting in the responsible positions don't even react? I am not making this up! One such instance which caught a lot of attention on social media few days ago was involving Meera Chopra, whose most recent appearance was in 2019 Bollywood movie Article 375! In an interaction session with her fans/followers on twitter, someone asked if she likes any South Indian actor? She said she liked Mahesh Babu. Later, someone asked if she doesn't like Jr NTR. She casually replied that she doesn't know him much, and likes Mahesh Babu. If Meera and the news reports that followed are to be believed, she received some 30000 rape and gang rape threats from Jr NTR fans. The statements made and the words used were so extreme, that I am ashamed and embarrassed to even share any of them here. Still further, till the time that I was following this story, even the idol actor whose fans did all this didn't come out and urge his fans to refrain from such behavior! Although a lot of Meera's fans and some celebrities did come out in her support on twitter. However, even if 0.01% of people who threatened would've been extreme fanatics and could really do what they said, she would've been in trouble! We would always wish that nothing of that sort happens to anybody in the world, but can we even imagine the trauma that the young actress and her family must have gone through?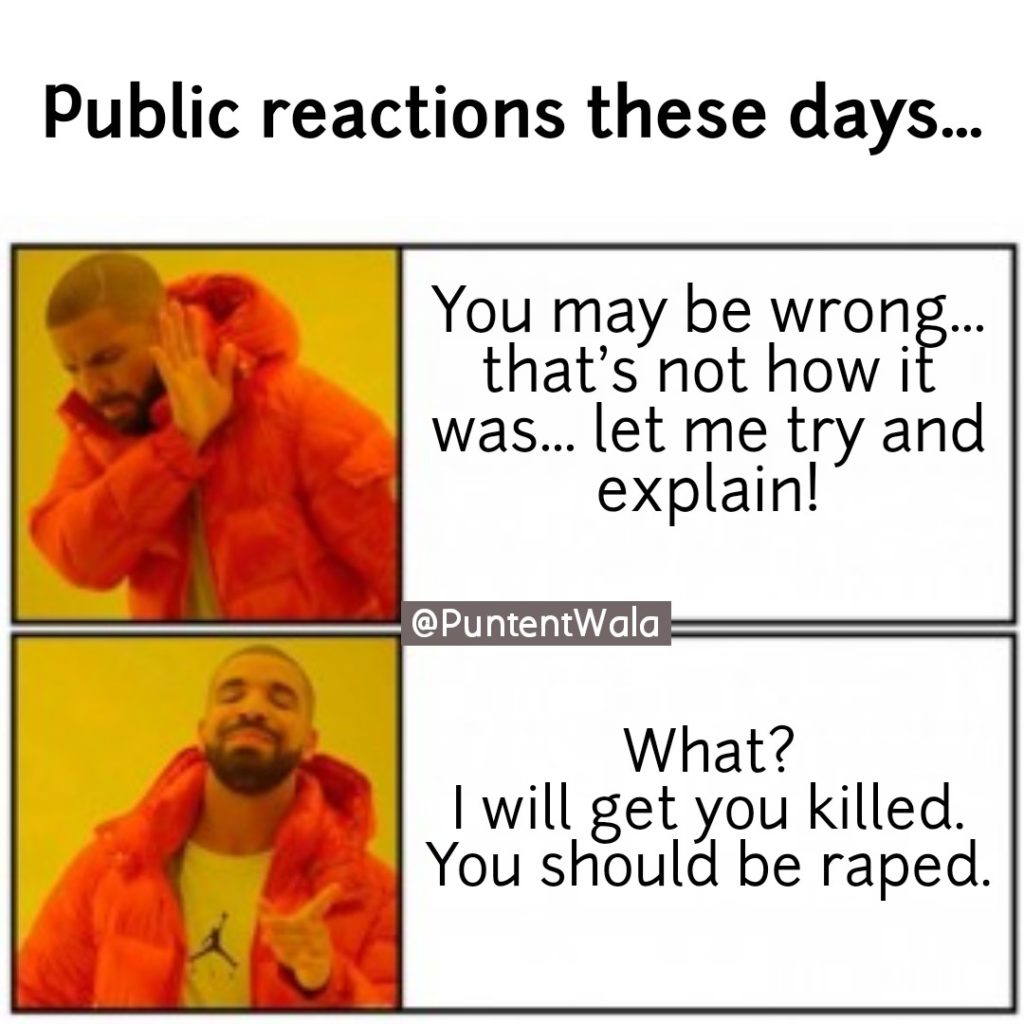 Please don't misunderstand me; I wasn't trying to make this a sympathy article dedicated to Meera Chopra alone. This is just an example of what happens around us on a daily basis and that no stringent action is taken against the offenders! A lot of users on twitter are fake profiles with false information. Mostly, these are the ones who think they can hide behind a pseudo username and troll, insult and threaten anybody and get away with it! You and I are not authorized or not even equipped to make moral standards for using social media. We can only contribute by being sane ourselves and by telling people around us, who may be indulging in such acts, to refrain!
There is already a lot of negativity, uncertainty and insecurity around us. Many of us have often false-promised ourselves that we'll stay away from social media, but we do end up coming back and falling prey to everything all over, right? So, social media is here to stay! We can only contribute by bringing the necessary changes, starting from ourselves and then people around us… bringing about a Little Revolution, One Day at a Time!
Image Partner: PuntentWala. Follow PuntentWala on Instagram and Facebook by clicking below: