While I was walking past an old market area in the city, I came across two pottery shops, located adjacent to each other.
In the first shop, I saw some 100-120 pots. The shop owner told me that they make and sell only 6 types (or shapes) of pots and produce anywhere between 140 to 150 pots in a day.
He further said, "My men are so well trained… you can pick up any of my men and blindfold him. He'll be able to pick up the right amount of clay, place it on the potter's wheel and make a perfectly shaped pot! This is why, my father and I are never worried about work. We know our workshop runs on its own, thanks to our well trained potters".
In the second shop, there were some 40-50 pots. After a quick glance through the shop, I saw that the pots were of different shapes, sizes and colours. Some pots were painted using vibrant colours and others were more subtle and classy.
The shop owner said, "We don't believe in 'One Size Fits All' ideology. Each human being is unique and so is their choice. We encourage most of our potters to think out of the box and create something of their own. In the process, our potters even suggest us to procure clay from different regions of our India. My brother and I perform our research and procure additional types of clay, in case we find it necessary. Each potter makes his pot in a slightly unique way, treating the clay and shaping it as he wishes. This entire process from start to end is monitored by me and my brother, ensuring that potters don't go off track while attempting to be extra creative. This way, we are able to respect and nurture individuality too! As a result, for our customers, we have readymade pots of multiple shapes, sizes and colours. In spite of this, if customers want us to make a design or a shape of their own, we understand their exact needs and create pottery tailor-made for them!"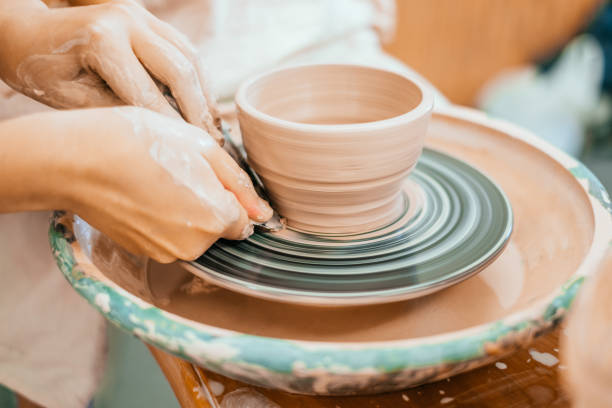 After speaking to these pottery workshop owners, I was compelled to take some lessons from here, relating these two school of thoughts to management styles in the corporate world! For people who are unable to relate, here's some hint-
Workshop Owners = Company Owners or Top Management
Potters = Mid Management
Clay = All other Employees
If you were clay, which workshop would you want to be in?