Covid-19 hasn't left any stone unturned in transforming our lives from where we were about a couple of months ago. Social Distancing sure has become a new normal. We are being suggested that even after the lockdown and further restrictions are eased, we should come in contact with as lesser number of people as possible, for a very long time. Have we thought how will it be to see your "bhai hai tu mera" or "soul sista" friends and just wave awkwardly? If you've met for some drinks, 'Cheers' is probably the maximum physical contact that science experts may suggest in the months to come!
While all these are the thoughts from the future, the present is also being well decorated by some over enthusiastic and science defying elements. Many individuals are messing with the lockdown rules and are getting appropriate responses from the policemen. Earlier, religious groups of people had come out in huge numbers and were fueling failure to a large extent. These incidents are being over promptly reported by various news channels and innumerable videos are also available on social media. Thus, I am not going to get into the details of these unfortunate incidents. All I can say is almost every media channel is showcasing half truth, that suits their agenda and narrative. Yes, behaviour of certain groups has been destructive and disrespectful while many others gave in to their empty bellies and sheer desperation to return to their dear ones. Whatever may have happened, whoever the end victims were, we as a society have successfully given all these incidents either political or religious angles. Why haven't we seen a single incident with a perspective that the ones involved were relatively less literate, less informed and more misinformed, less fortunate, less privileged than the ones passing judgements? A big thank you to our TV media. They have succeeded in delivering what we, collectively as a society, wish to see and hear!
Courtesy: Lockdown; most of us got enough time to explore newer things, so did I. With a little extra time at hand, I did indulge in some debates and discussions with friends and acquaintances, sometimes even strangers on social media. I have been in sync with the government's decisions during the lockdown and have positively regarded all rules and regulations. But somewhere within, I did have some concerns and questions. In his latest address to the nation, PM announced a stimulus package of Rs. 20 lac crore. Rather than waiting to understand what that means, pro as well as anti propaganda started on social media handles. Amongst many such messages, one instance that I would like to quote here is as below:
India's population: 133 Cr
Package: 20 Lakh Cr
Try calculating.
It's exactly 15 lakh per person.
2014 promise made good.
Modi hai to mumkin hai…
Ok, Point 1: The dude's math is horribly wrong.
Point 2: Even if we correct the math, the government is not going to credit the amount in our bank accounts, right?
During the debates and discussions, all was well till I was supporting the government's decisions and moves. As soon as I raised a concern or highlighted an area of improvement, responses like "bhai tu Rahul Gandhi ko sunke aaya hai kya?", "tum log kabhi nahi sudhroge", "this is not the time for fulfilling your political agenda" and "this is not the time to criticise the government" started pouring in. My political agenda? I work as a sales professional for a regular company. What political agenda could I possibly have?
At some point of time in our lives, we have challenged something that our parents thought would be right for us. Many of us still do it. We conveniently raise questions on their suggestions and decisions, even when we are 100% sure that their intentions will always remain in our favour, and rightly so. I was not raised to blindly follow what my parents tell me to do. I have often asked questions and have seldom done things bindly. So, I just fail to understand how can so many people in our country blindly worship a political figure? I mean, beyond their public image, how much do we know about them? I am not debating on whether we should have political opinions, ideologies and preferences. But is it appropriate to determine one's patriotism for their country on the basis of that? I've had discussions and debates with so many friends and acquaintances in the recent and far past. I have sometimes easily silenced people, often given up and even lost some of them. At the end of most of them, I have felt that 'It wasn't worth it!'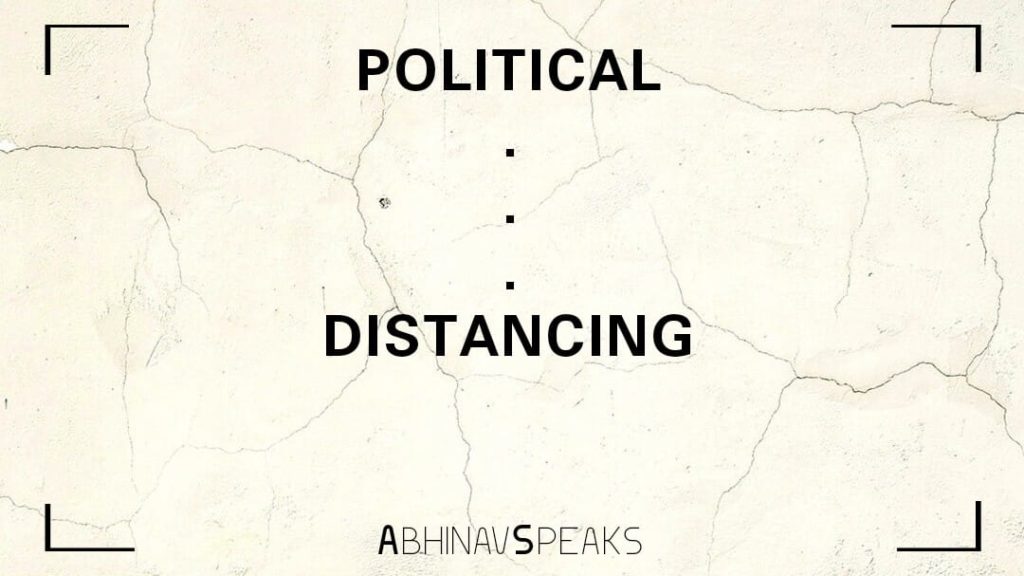 Thus, I think while are getting equipped to follow social distancing for a long time, the next thing which we desperately need to implement is Political Distancing!
I am in the phase of learning to do this myself. Thus, I don't have any tips on how can we do this. To each their own is the way I guess. But the crux of what's needed could be as follows:
Stay away from politically influencing news, social media posts, videos, etc.
Strictly avoid being a medium and/or victim of propaganda.
Know that not everything around us necessarily needs to have a religious or political angle.
Let's not indulge in heated discussions with poeple with a clear and unmoving bias, the discussion will not head anywhere and will take away our mental peace!
Not every post that you receive on WhatsApp or come across anywhere on the internet is intended exclusively for you and your reaction isn't mandatory. Refrain! Remember, we don't pee in every urinal that we see on the road, right?
Think. Yes, think. For example, if you get a whatsapp post with a picture of a video camera, and it reads that "Your chats are being recorded, Beware", would you trust that?
And one thing that a lot of us need to learn: Even if you dislike a person and have a strong reason to do so, just regard his position and hear him out with an open mind. If you still think it doesn't make sense, take your call. But let's not create unrest by influencing or distracting others.
Apply logic, Stay and keep your dear ones safe… Stay peaceful… Stay happy!
There may be a lot of other things as well, which we may need to do. I just thought I'll share a perspective and toss this term and encourage you all to think about the way ahead! Please feel free to share your inputs about the same, if any.
Please keep telling yourself, Political Distancing!